Our Studios
Our apartment for rent is located on the corner of Nathan Road & Hillwood Road in Tsim Sha Tsui has 71 serviced studios with five different studio types to choose from. The monthly rent is all-inclusive of utilities, housekeeping, linen change and a whole host of added benefits. We hope to welcome you soon!
Testimonials
Testimonials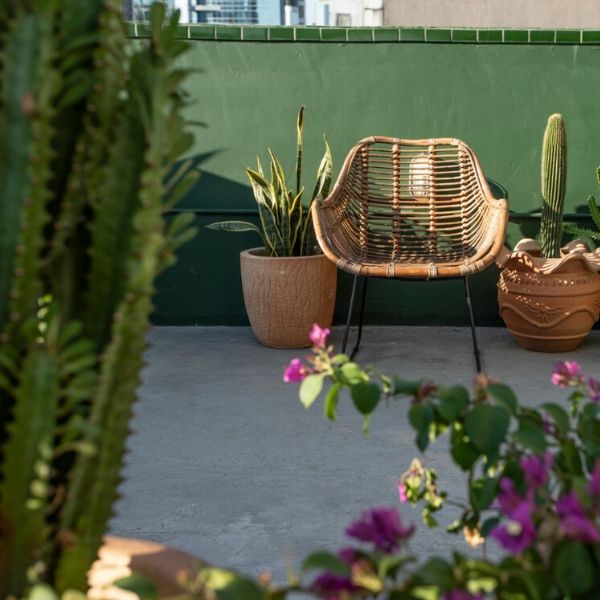 I loved staying at the Nate! The service apartment is near Jordan MTR station and close to many shops and restaurants. The common kitchen and lounge area is nice, and the same goes for the rooftop. But what really stood out to me is the design of the guestrooms. The room is modern, functional and so comfortable. And the staff is friendly and helpful too. One of the best places to stay in HK!
Queenie Mak
The communal living spaces (Kitchen, Washing Area & Rooftop) are perfect for both newcomers and existing city members due to their spacious & modern facilities; but mainly due to The Nate's genuine warm & friendly atmosphere. Whether you're chatting to the Customer Service team, your Neighbours or the Night Guard, you will never feel lonely in any of these great spaces. The location is very convenient as you are just 3 minutes walking from Jordan MTR station which can have you placed from the New Territories or to Central in no time. Local supermarkets and eateries are all within walking distance. There is probably more I could say but you should not hesitate to experience this place for yourself. Thank you to everyone at The Nate for looking after me!
Callam Smith
Staying at The Nate is probably the best decision I made when moving to Hong Kong for work. Studios are modern & well designed to maximize the given space. Common areas were also relatively well equipped, with the rooftop being my favourite spot (you get a good glimpse of the city skyline). It is also very conveniently located; just a short walk to Jordan MTR & a 10-15min walk to the picturesque dockside. There are also plenty of food options in the area; you will be spoilt for choice. Above all, the community fostered was the highlight of my time there - they made the city feel more like home. Big thanks to the in-house staff team who were always ready to assist us/open to the feedback from the residents, incl our ideas for community events. Highly recommended!
Jeanette Tan
The Nate is a very smart long-term studio rental concept that's perfect for global workers. The impeccable design makes the property feel like a high-end boutique hotel and adds a level of luxury to the experience. Guests are provided with spacious common areas which include a state-of-the-art kitchen, high-tech laundry room, working and lounge space, plus a rooftop with very nice views. The location in Tsim Sha Tsui is very convenient, it's only a 10-minute walk to the Star Ferry and less than 5 minutes to lots of shops and restaurants for anything you might need. I would highly recommend The Nate for digital nomads and traveling professionals without families who want a stylish, hip, and dynamic place to stay for an extended period in HK.
Nadia Cho
Media Professional
What Makes The Nate
Furnished & serviced
Always comfortable, furnished, stylish, safe and clean. You'll feel instantly at home the second you move into one of our serviced studios in Hong Kong.
Short term or long term?
Doesn't matter! The Nate offers flexible studios for rent, minimum commitment of 1 month. Move in any time by booking for your serviced studio online.
Conveniently located
Our serviced apartments – The Nate is located in Tsim Sha Tsui, Hong Kong. The ultimate shoppers' paradise, foodie haven and home to some of Hong Kong's major attractions. Quick access to the Tsim Sha Tsui or Jordan MTR means you can get to Admiralty and Central in 10 minutes.
The Good Stuff
All-inclusive —
No hidden costs
The Nate will take care of your bills so you don't have to: WiFi, water and electricity are all-inclusive! Each studio is serviced: our friendly house keeping staff will clean your studio three times a week and change your linens once a week.
Housekeeping & Linen change
Like having your bed made for you: we have you covered, with our friendly housekeepers making up your studio three times a week.
Safe box + Fridge
Keep your food cool and your money safe.
Safe box + Fridge
Keep your food cool and your money safe.
4 Fluffy Pillows
Need we say more? Sleep tight.
Private Bathrooms
Shower at your own pace.
Air Purifier
Breathe freely and harmlessly.
Full Kitchen
Our communal area consists of a full kitchen with appliances and cookbooks!
What's Around
Nathan Road
Location is everything and everything is great about where The Nate is at. Conveniently located on Nathan Road with an array of restaurants and bars nearby. The MTR will take you to Central within 10 minutes, and of course, Kowloon Park is right around the corner if you ever want to step away from the city.