Our Studios
Our apartment for rent is located on the corner of Nathan Road & Hillwood Road in Tsim Sha Tsui has 71 serviced studios with five different studio types to choose from. The monthly rent is all-inclusive of utilities, housekeeping, linen change and a whole host of added benefits. We hope to welcome you soon!
Testimonials
Testimonials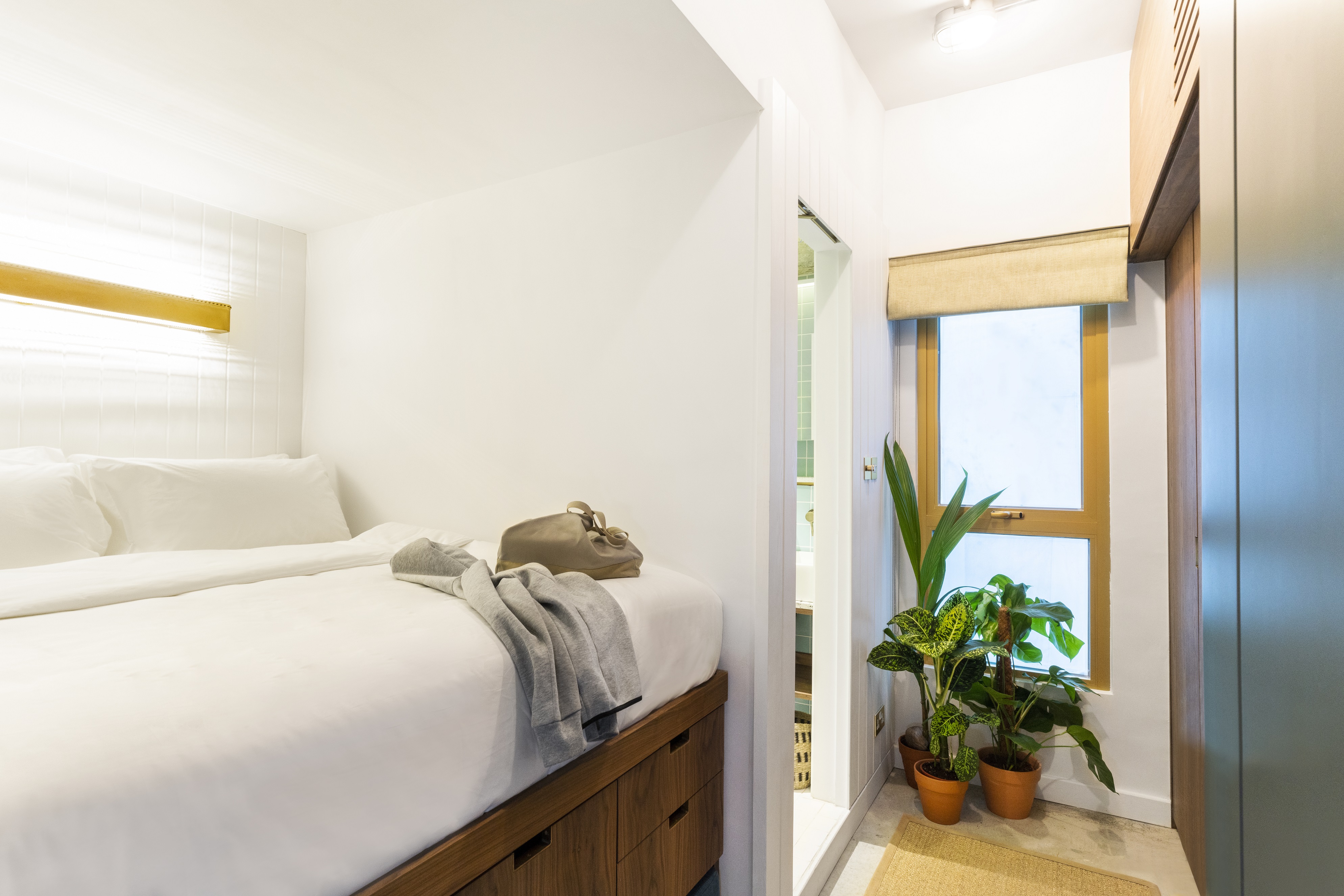 I highly recommend staying with THE NATE when you visiting Hong Kong. The location is great and super convenience, it is easy to walk around and observe the local scenes. The place is very safe as well, nearby the Nathan Road and the Jordan MTR station. The room is clean and cosy and the bed is super comfortable. The size of the big studio is great!!! I like their industrial design style. The kitchen area is great for cooking and preparing food, sometimes you got to share with others. It is a good place to meet new friends especially if you are new in Hong Kong. The staffs from here is also very friendly and helpful, they are doing their best. I will definitely be staying here again.
Ya-chu Kang
Artist
Choosing to stay at The NATE was probably the best choice I made when coming to Hong Kong for my internship. The studios are modern, clean (you get housekeeping 3x a week), and maximizes the small space with ample storage room. The common kitchen is spacious and quite well equipped. The NATE is also very conveniently located. Only a 2-minute walk away from Jordan Station, 15-minutes away from the Victoria Harbour (you can actually catch glimpses of it from The NATE's rooftop) and surrounded by many malls, shops, and restaurants. There are so many options for you to choose from. The highlight of my stay at The NATE was the friendships and connections that I was able to build there - it really made HK feel more and more like home. Also, the in-house staff is very helpful, friendly, and open to feedback and ideas from the residents.
Amanda Margo
Our 6-month experience in Hong Kong has been amazing thanks to you. From the first to last day we have felt at home. The location (Jordan Station) is perfect, not too far from Central and blended with local people. Our room was very functional, carefully cleaned up 3 times per week. The communal area and rooftop are clean and great. The big open kitchen is very functional (oven, dishwasher, cooking plate...). Overall the design is well thought to be felt at home. We really like the monthly event (Wine Wednesday, Pop up art, Halloween party...) that allowed us to meet awesome people.
Madeleine Liu
The Nate is a very smart long-term studio rental concept that's perfect for global workers. The impeccable design makes the property feel like a high-end boutique hotel and adds a level of luxury to the experience. Guests are provided with spacious common areas which include a state-of-the-art kitchen, high-tech laundry room, working and lounge space, plus a rooftop with very nice views. The location in Tsim Sha Tsui is very convenient, it's only a 10-minute walk to the Star Ferry and less than 5 minutes to lots of shops and restaurants for anything you might need. I would highly recommend The Nate for digital nomads and traveling professionals without families who want a stylish, hip, and dynamic place to stay for an extended period in HK.
Nadia Cho
Media Professional
What Makes The Nate
Furnished & serviced
Always comfortable, furnished, stylish, safe and clean. You'll feel instantly at home the second you move into one of our serviced studios in Hong Kong.
Short term or long term?
Doesn't matter! The Nate offers flexible studios for rent, minimum commitment of 1 month. Move in any time by booking for your serviced studio online.
Conveniently located
Our serviced apartments – The Nate is located in Tsim Sha Tsui, Hong Kong. The ultimate shoppers' paradise, foodie haven and home to some of Hong Kong's major attractions. Quick access to the Tsim Sha Tsui or Jordan MTR means you can get to Admiralty and Central in 10 minutes.
The Good Stuff
All-inclusive —
No hidden costs
The Nate will take care of your bills so you don't have to: WiFi, water and electricity are all-inclusive! Each studio is serviced: our friendly house keeping staff will clean your studio three times a week and change your linens once a week.
Housekeeping & Linen change
Like having your bed made for you: we have you covered, with our friendly housekeepers making up your studio three times a week.
Safe box + Fridge
Keep your food cool and your money safe.
Safe box + Fridge
Keep your food cool and your money safe.
4 Fluffy Pillows
Need we say more? Sleep tight.
Private Bathrooms
Shower at your own pace.
Air Purifier
Breathe freely and harmlessly.
Full Kitchen
Our communal area consists of a full kitchen with appliances and cookbooks!
What's Around
Nathan Road
Location is everything and everything is great about where The Nate is at. Conveniently located on Nathan Road with an array of restaurants and bars nearby. The MTR will take you to Central within 10 minutes, and of course, Kowloon Park is right around the corner if you ever want to step away from the city.